Commercial Solar Carports
Kern Solar Structures' CarPorTs™ integrate the  Solar Speed RaX™ system of shared rails for swift installation in the field. A robust design to withstand the rigors of wind, rain and snow.
Residential Solar Carports
Kern Solar Structures' Resi-PorT™ is the first residential solar carport kit offered by a major carport manufacturer.  It utilizes the Solar Speed RaX™ system to increase flexibility and reduce installation times wile accepting most full frame PV modules, making it an ideal solution for many residential solar projects.
Press Release: Chevron Bakersfield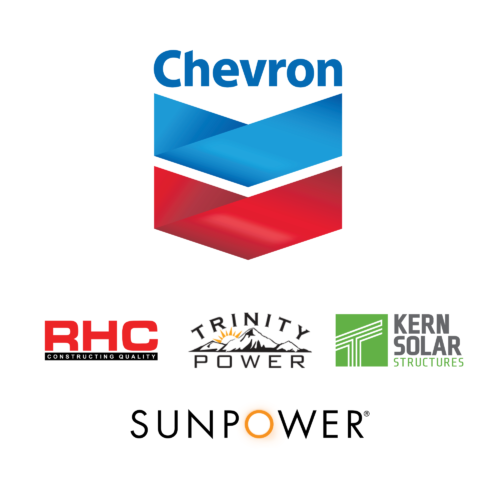 Kern Solar Structures (KSS) is partnering with Robert Heely Construction (RHC), Trinity Power, and SunPower to install a 2MW Solar CarPorT™ System at Chevron's Bakersfield office complex.
The system will total 14 structures, supporting 4630 SunPower 435W Commercial PV modules. These structures will feature several custom design features such as 15⁰ canopy tilt angle, and extended canopy lengths.  KSS's Solar CarPorT™ System  is designed to be installed faster than traditional systems, while providing a longer expected life span than other systems.  This system will be installed by RHC and Trinity Power later in the year to provide the Chevron Bakersfield Headquarters with a massive power offset.
This addition to the Chevron facility increases the company's growing solar presence of owned utility assets and further supports their mission of decreasing carbon-intensity to achieve a "Paris-compliant future".  Chevron continues to lead the energy transition towards cleaner energy to enable a greener tomorrow.
The Oil & Gas Industry is notorious for intensive safety measures, and Chevron is no exception.  A key component of the project is the high safety standards Chevron expects from their contractors.  Having previously worked with Chevron, RHC understood Chevron's expectations and knew they could not only meet those expectations but exceed them.
Robert Heely Construction has delivered safe, quality, on time projects in the energy and industrial markets since 1977.  RHC takes pride in this accomplishment and strives every day to make it their number one priority. Just as KSS, RHC is committed to meeting the unique challenges that exist in today's energy and commercial markets. Together with KSS, RHC understands that construction activities impact the earth and its resources. Together, they are dedicated to environmental improvements that foster a sustainable future by protecting the environment, the health and safety of employees, customers, and the communities in which they operate.
Press Release: Lamborghini Newport Beach
LAMBORGHINI

Newport Beach
Kern Solar Structures is working with SunPower and SunGreen Systems to provide a 254-kW system to Lamborghini Newport Beach in Irvine, CA!
This project will be utilizing the Solar CarPorT™ System and consists of a single cantilever and two double cantilever carports totaling 168-kW.  These carports will be coated in a two-tone color matched Polysiloxane coating to increase the aesthetics of the structure, ensuring a long-lasting high-quality finish.  The system will be installed by SunGreen Systems in September 2020 and will support 388 435W E20 SunPower modules.
Lamborghini Newport Beach engaged SunGreen Systems for their new expansion into Irvine, CA which will house Lamborghini, Bugatti, McLaren, and Koenigsegg dealerships.  The new dealership involved a large renovation of the existing building and the construction of additional new buildings, which will feature an additional 86-kW of rooftop solar also installed by SunGreen Systems.
SunGreen Systems partnered with SunPower and Kern Solar Structures to achieve their goals with a hybrid rooftop and carport solar system.  This system will drastically reduce their energy bills, provide clean energy to the dealership and be the first solar installation in the Irvine Auto Center. They wanted to reduce their utility costs as well as provide shaded parking for their customers, employees, and inventory.  The solar carport will be an aesthetically pleasing addition to the area that will complement the new frontage and not impede anyone's views of these luxury super-cars.
Press Release: O'Neill Vintners & Distillers Project
Kern Solar Structures is working with Q-Cell and Barrier Solar to provide a 638-kW system to O'Neill Wines in Parlier, CA!
This system will be utilizing the Solar CarPorT™ System and consists of 4 single cantilever and 4 double cantilever Carports which will support 1,520 of Q-Cells' Q.PEAK DUO L-G7 420W Modules!  The system will be installed by Barrier Solar in October 2020.  By taking advantage of the SoLFasT™ Erection Method's speed and flexibility the installation will have little to no effect on operations during the busy harvest season.
This project will increase O'Neill's already substantial 5,000 panel solar farm capacity by an additional 30% and provide shaded storage and parking to employees and visitors.  These structures will feature a foundation without bollards to increase parking accessibility.  O'Neill is also taking advantage of some of Kern Solar Structures' unique aesthetic offerings, by painting the structure using a color matched advanced polysiloxane coating system and adding Solar Wraps™ to the columns to increase the aesthetic appearance of the columns.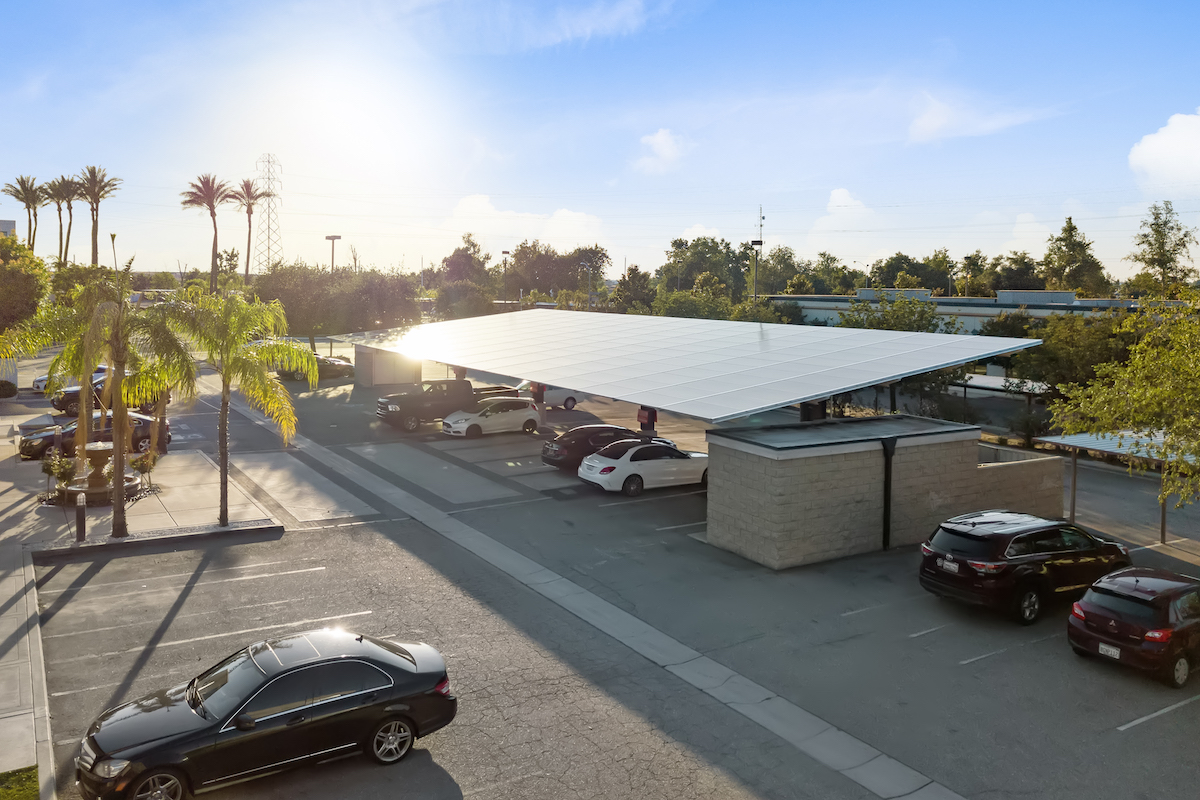 By offering a Tier 1 Product and practicing improved design and construction techniques, Kern Solar Structures strives to support better solar.  These practices are most evident when looking at the Solar CarPorT™ System. The Solar CarPorT™ System takes advantage of these techniques to decrease manufacturing, installation, and delivery times in order to manage soft costs for the installer.
Solar carports are not immune to corrosion.  Even in a mild environment corrosion occurs.  In order to maximize your investment, and protect your asset, the proper type of coating should be applied to your solar structure.  Offering both Protective and Sacrificial coatings, Kern Solar Structures will make sure your asset is covered.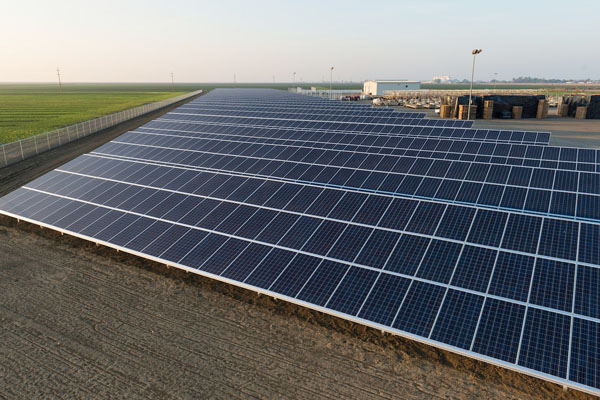 The standardized MaX™ Ground Mount Utility Table has been optimized for minimal installation time.  This modular table can be sized in increments of 18 modules, maxing out at a table size of 90 modules, and is optimized to fit the majority of Utility Solar installations nation wide.  By maintaining the focus on both the asset owner and the installer, Kern Solar Structures' MaX™ Utility Table is an ideal fit for any utility scale project.
Available to Order Now!
Kern Solar Structures' Resi-PorT™ is now available.  Learn about how the Resi-PorT™ is constructed,  installed, and the components that are included in the kit.  By joining the news letter you will always stay up to date on new product releases, accessory releases, Solar Industry News, and everything Kern Solar Structures.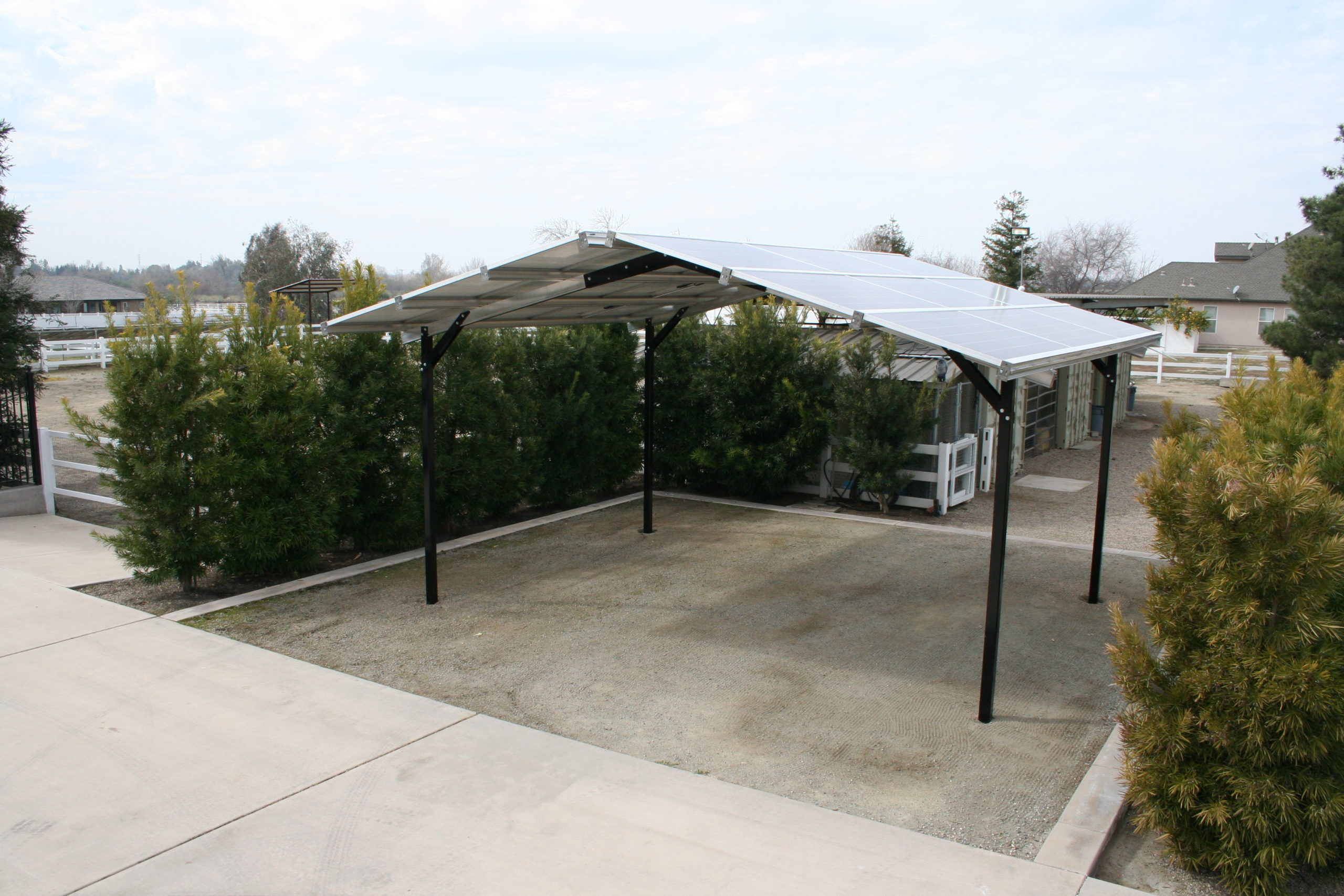 What are Solar SPeed Rax?
Solar Speed RaX™ are the unsung heroes of Kern Solar Structures.  It is a shared insertion rail that can reduce module installation time by upwards of 50%.  Learn how this racking system works and how it can help cut down on your installation times.
About Kern Solar Structures
Kern Solar Structures is leading the industry in revolutionary design and construction practices that can reduce time and save money when properly implemented.  Furthermore, Kern Solar Structures provides Solar Installers and Developers of all sizes with premium grade solar structure solutions, no matter the complexity or scale of the job.
To get the full story and learn more about Kern Solar Structures visit the Why KSS page!
OUR LATEST SOLAR STRUCTURE PROJECTS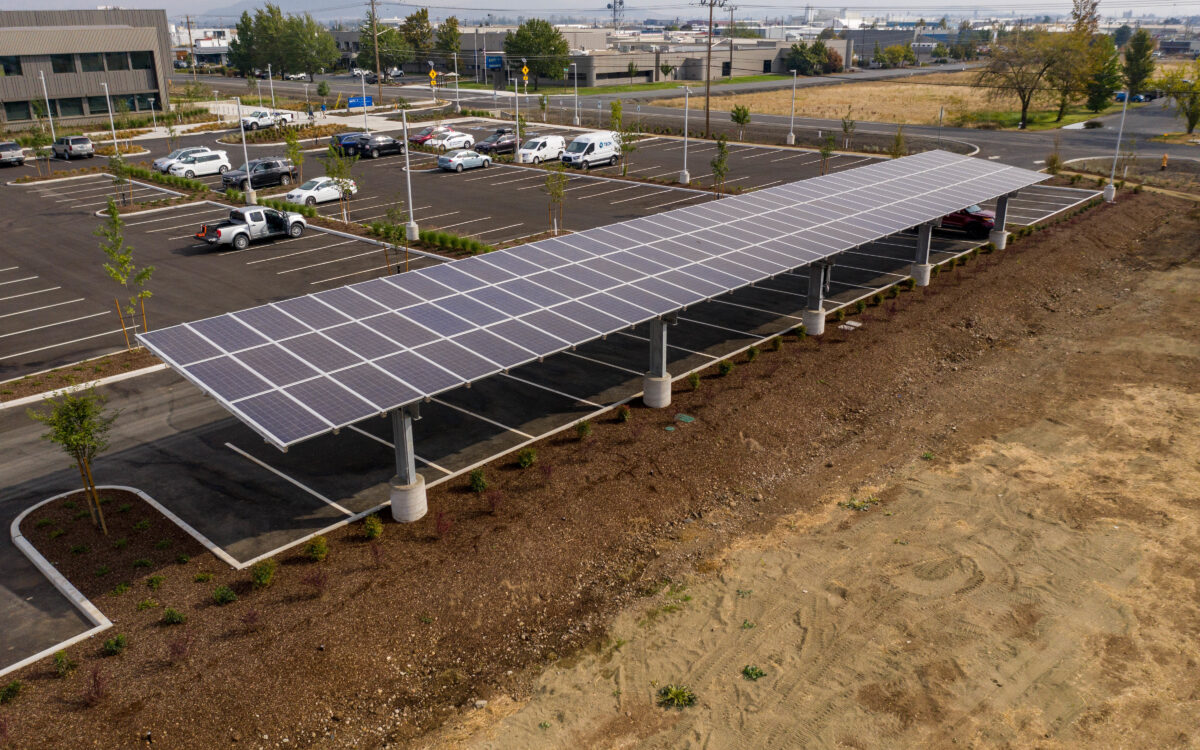 Rogue Community College – Table Rock The Rogue Community College project was installed in White City Oregon at the Table Rock Campus with the new Health Professions Building.  As a public agency, the college was required to install renewable energy…
View project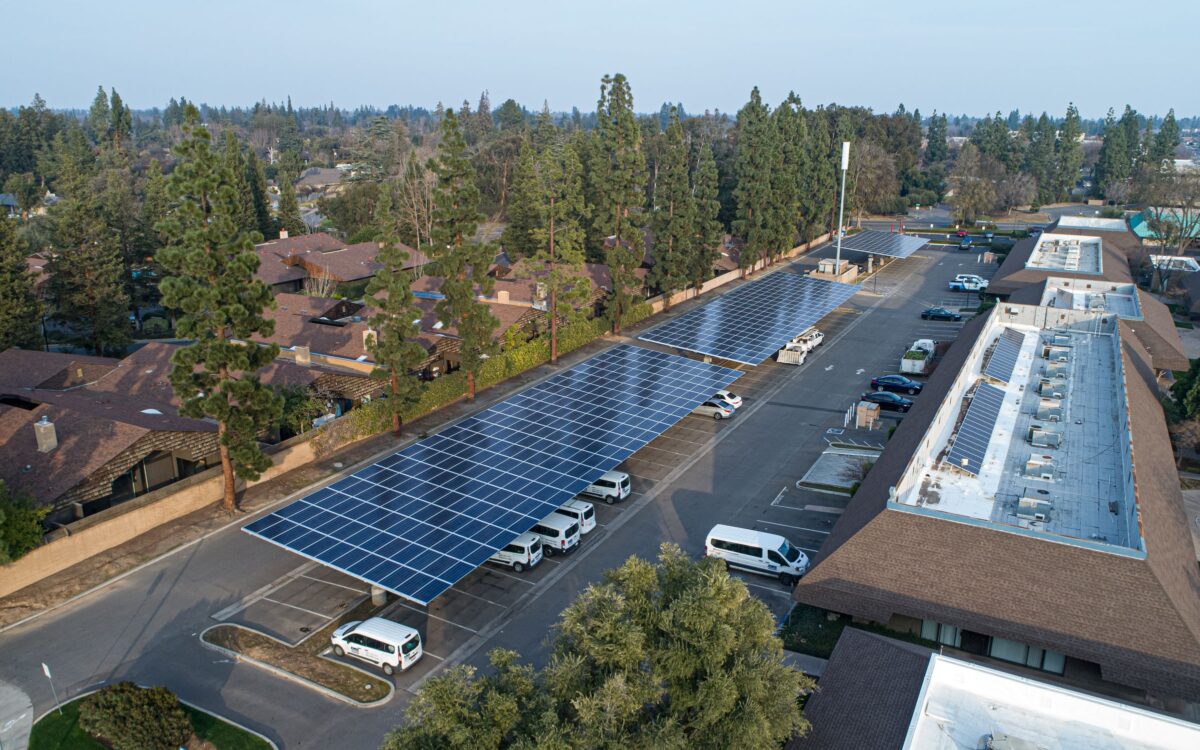 Van Ness Shaw The Van Ness Shaw Project features three Double Cantilever Solar CarPorT's™ for a combined total of 222.3 kW.  These carports were installed at an industrial park in Fresno CA.  It provides a large power offset for the…
View project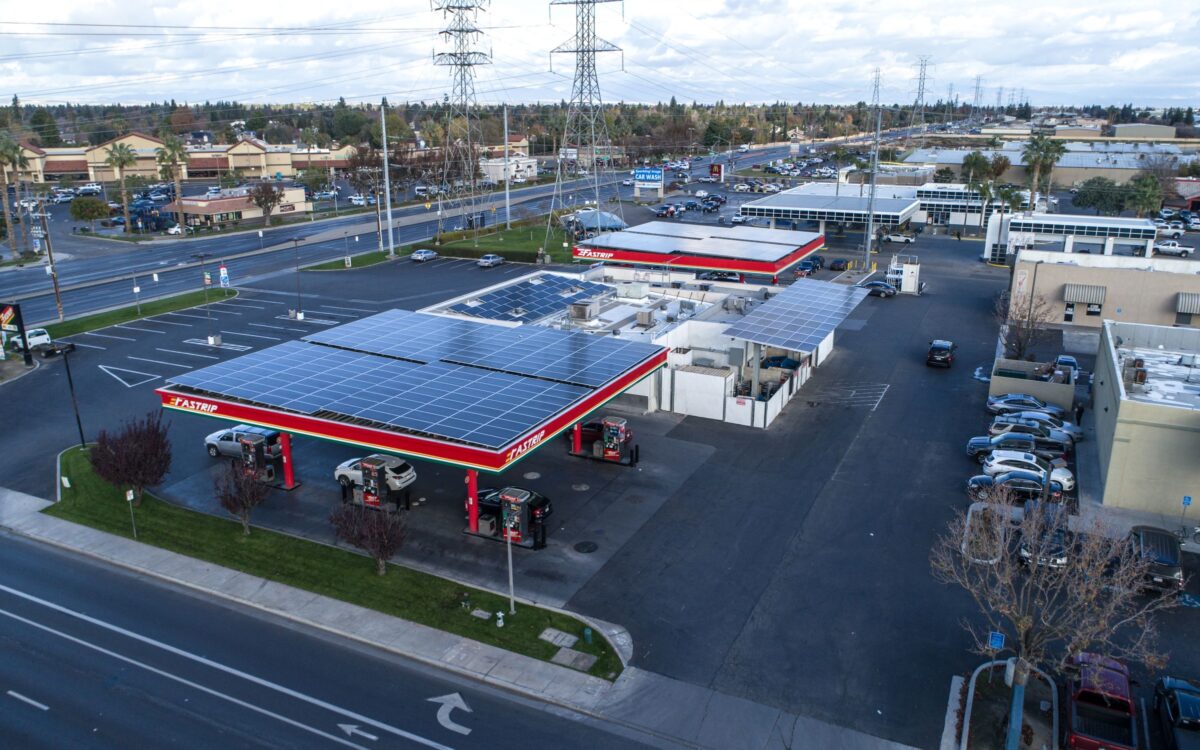 Fastrip – White Lane The Fastrip Project completed in Bakersfield, CA is a great example of the flexibility of the Solar CarPorT™ System design as well as the use for a solar carport.  This structure needed to have a clearance…
View project