An innovative shared rail solar mounting system designed for utility, speed, and cost-efficiency.
Kern Solar Structures' Solar Speed RaX™ speed up installation of your solar structure. The system is designed to be installed from underneath so installers don't have to get on top of the system. This speeds up the process while ensuring the installation of the solar structure's PV Modules aren't damaged. When the installer doesn't have to worry about damaging your PV panels things move along more quickly. Another feature of Solar Speed RaX™ is the integrated wire management system which provides cable management to keep your solar structure wiring neat and secure. Solar Speed RaX™ is compatible with a wide range of PV Modules.
Solar Speed RaX™ are a high strength racking system. PV Module contact extends the entire length of the frame, adding an increased level of support insuring the system lasts for extended periods of time. PV Module security and protection is a priority when Solar Speed RaX™ are used. As a system that can reliably last 30 years with a greater level of predictability for both installation and maintenance, Solar Speed RaX™ is a high value system with an increased level of bankability that is not often seen in other racking solutions.
Solar Speed RaX™ is an insertion rail system, but it differs from other IR Systems. Modules are installed from underneath in a labyrinth
pattern. The modules cannot be removed unless they follow this path, even when the rail is fully expanded.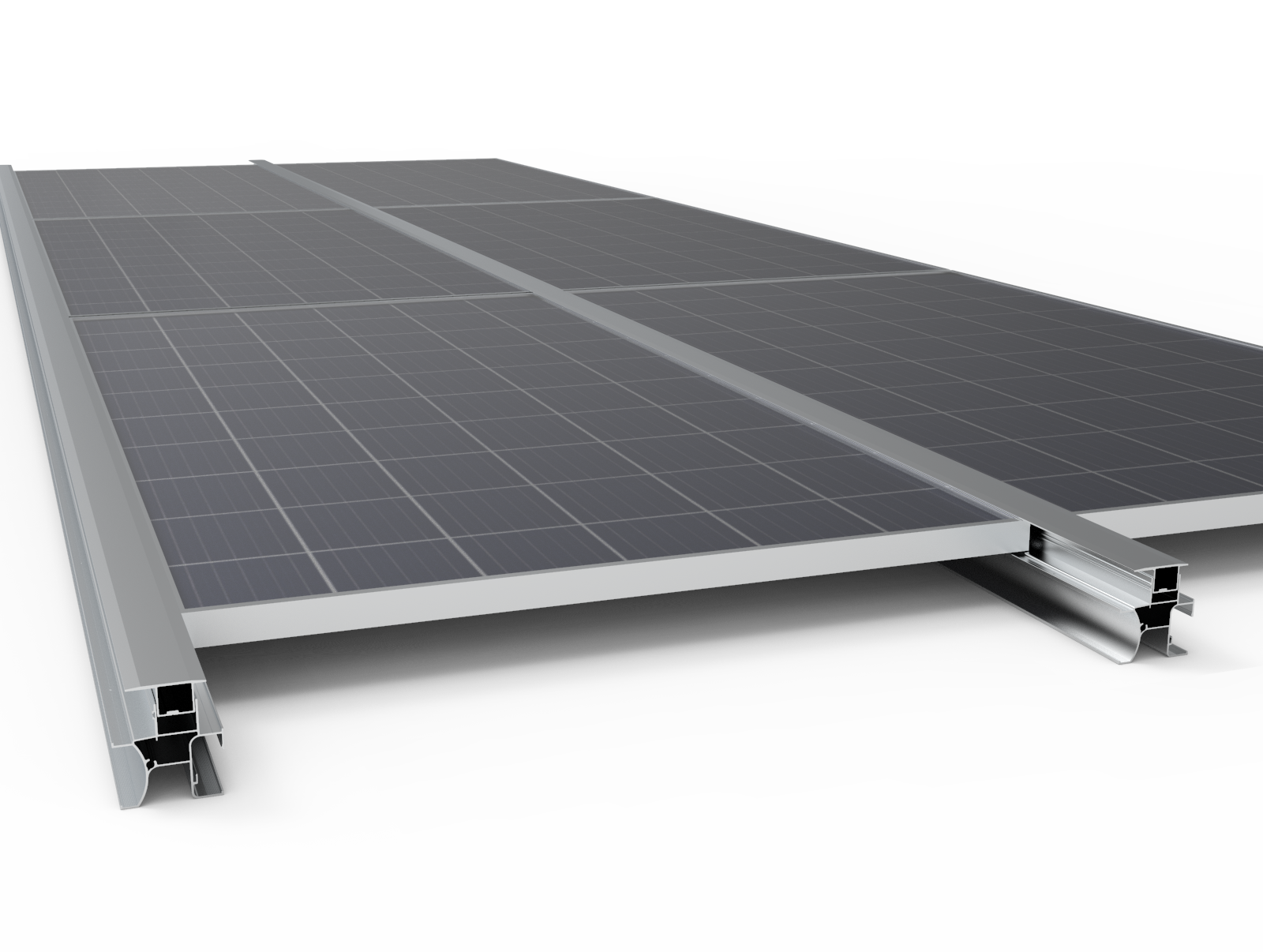 The rail is tied down and the module is securely fastened by tie down bolts spaced evenly along the length of the rail. As these bolts are tightened, it pulls the top of the rail down, clamping the module on both the top and bottom of the frame.
At both ends of every rail end caps are fastened. End caps add an extra level of security by grabbing the top rail and holding it in place once clamped to keep the top rail from fully releasing.
Speed up with Solar Speed Rax™
Solar Speed RaX™ are available for standalone purchase.  the Solar Speed RaX™ system can be installed on many structures and are ideal for retrofitting existing structures, such as pergolas, with an effective, high strength, racking solution.
Solar Speed RaX™ do not come with an engineering service.  If this racking system is not installed on a Kern Solar Structures support structure, engineering must be performed by a PE and certified in order to be permitted.  This process is not included with purchase of standalone Solar Speed RaX™.
To place an order of Solar Speed RaX™, or if there are any questions regarding products or services provided please contact a Kern Solar Structures representative.
Kern Solar Structures' Solar Speed RaX™ speed up installation of your solar structure. It's designed to be installed from underneath, eliminating the need for the installer to be on top of the structure, speeding up installation while reducing risk of PV module damage. PV Modules can be inserted at any point along the rail length allowing for individual modules to be removed and replaced without having to clear the entire row, further decreasing maintenance time and cost. Solar Speed RaX™ are delivered completely assembled with no field drilling and no field installed fasteners. Once installed, no additional on-site fasteners or clips are needed to secure PV Modules to the racking. Solar Speed RaX™ come with UL Certified integrated bonding, with integrated wire management.
Solar Speed RaX™ feature one design used across both utility and commercial applications. It is compatible with most commercial frame mounted PV modules ranging from 35mm to 48mm in frame height. The system contains no bottom side obstructions, yielding a higher production value for Bifacial modules and producing a more aesthetic underside.